Its time to check in and see how we have all got on with our
planned sewing for the winter
, we are about half way through now so lets see if i'm halfway through my list!
1) Pouch for the Pretty Little Pouch swap - Done
needle and dime
)
2) Pincushion for Sewn Spaces Swap - Done
A sausage dog, I designed (I hope to put up a free pattern for this soon)
Ella
(shimmy blister), aren't those pins adorable!
3) Cushion for Brit Quilt Pillow Fight - Done
Flaming Stitches
, it is unbelievably stunning, she is a absolutely amazing FMQer, you have to check out her work, serious talent! The colours and design are so beautiful, these pictures do not do it justice at all
4) 2 Pressies for birthdays at the crafty campers - one done and given, one in the pipeline, due to be given mid Feb
5) Make block for a friends birthday and assemble the quilt made up of blocks from each of the crafty campers - done and given
6) Catch up on Skill builder - Not touched, no progress, seriously behind!
7) Catch up on Farmers Wife blocks - Same as above
8) New Christmas Stockings for the 4 of us - All started, 1 finished, 2 almost finished, 1 needs quite a lot of work and 1
tutorial
written
9) Quilt for my sister - no progress
10) Quilt for my other sister - no progress
11) Bee Blocks for Piece Bee With You - Up to date
12) Bee Blocks for Sew Bee Joyful - Need to make this months block before I am late but other than that am up to date
13) Blocks for 3x6 Bee - Done and posted
14) Finish our living room curtains - no progress, am reluctant to finish them as we are moving
15) Finish our 4 roman blinds for the living room - 2 finished, 2 nearly finished
16) Create fabric for the handprinted fabric swap - done, posted and received some lovely things in return
Cushion to go with the collaborative wallhanging I put together
Cushion for crafty campers christmas pressie swap
Cushion for Sew Mama Sew giveaway
Pouch for Sew Mama Sew giveaway
Cushion for my sisters Christmas pressie - No picture taken
3 x earphone pouches for Christmas pressies - No pictures taken
Union jack for my mums Christmas pressie so she can re-upholster a foot stool
Signed up for the Mouthy Stitches Swap - I've started designing for this and loving how fun this swap is
Signed up for round 2 of For the Love of Solids - I've picked out my fabrics and drawn up my design, very excited to make it up, not sure I will want to give it away although they are not normally my colours at all
Made superhero fancy dress for 20 children
Made a quilted zipper pouch and written a
tutorial
Entered a fashion design competition and made a dress for my entry
Made 2 charity string blocks and a block for the back of the charity quilt
Made an improv quilt for myself
Sorry for the massive post, cant believe quite how productive I have been, still a lot to do though, especially with my new Tutorial Tuesday linky party and writing a tutorial for it each week, time consuming but fun!
Check back on Tuesdays for
Tutorial Tuesday
and dont forget that
To Do First
is starting up on the 1st of Feb, hopefully it will keep us all organised so head back then to link up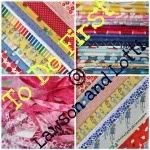 Oooh and I started Sundays Sewing Space - a peek into some great bloggers work spaces