I have been rubbish, oh my goodness its been a month since I last blogged (bad bad blogger). I'm really struggling to find the time at the moment, between children, work, housework, cooking, husband and a teeny tiny bit of sewing I just have not had time to sit and write! It's such a shame because I love it, I love writing down what i've been up to, keeping this journal of what I've made and most of all meeting lots of lovely people that have the same interests and keep coming back and reading what I write! So thank you, sorry for being absent, how do you do it? I know everyone is busy busy, how do you manage to fit those extra things in to everyday life?
Any way to keep me on track I'm joining up with Sarah at
Fairyface Designs
for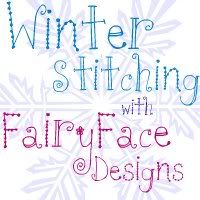 The way this works is that everyone involved lists the projects they want to complete over the next 4 months and hopefully by putting it in writing it helps keep you on track. We also get to hop around lots of other lovely blogs and see what everyone else has planned (loads of great inspiration)
Ok so here goes:
1) Complete my Pretty little pouch for the swap over on Flickr. By complete I mean finish, gather some lovely extras and post. I have finished the outside of the pouch, just need to sort out the lining
And this is the mosaic that I posted for my partner
2) Make my pincushion for the Sewn Spaces Swap on Flickr. I have started it this evening so hopefully this will be done quickly. I asked for something fun, maybe a bit whimsical, this is the mosaic I posted
3) Design and make my cushion for the Brit Quilt Pillow Fight. I need to get working on this asap. I cant show my partners mosaic but here is mine, I'm hoping for something Scandinavian inspired, although I will love whatever I get, my tastes are pretty eclectic
4) 2x birthday pressies for girlies at Crafty Campers (local craft group). One for 2 weeks time and One for Feb. I'm thinking of doing something like this one, that may or may not be for my pretty pouch swap partner
5) Block for a quilt for a lovely woman that is having a special birthday soon. I'm also assembling said quilt
6) Catch up on Skill Builder Quilt, this is where i'm at so far
7) Catch up on Farmers Wife Quilt, this is where i'm at so far
8) New Christmas Stockings for Boo, Buddy, Hubby and Me (Yes Father Christmas comes to every member of our household)
9) Quilt for my sisters wedding pressies (she has been married 2.5 years!!!)
10) Quilt for other sisters wedding pressies (she got married in June!)
11) Bee blocks for Peace Bee With You
12) Bee blocks for Sew Bee Joyful
13) I've signed up for the next round of 3x6 Sampler Quilt Mini Bee
14) Finish our giant living room curtains
15) Finish our 4 roman blinds for our living room
Seriously my list could go on and on with all the things that I want to make (pouches for me for storing sewing bits, about 10 quilt designs in my head etc.)
And finally I want to get some tutorials done and posted onto my blog. I've started writing a few but need to find the time to make, take photos, upload etc.
I'm also debating whether to sign up for
Handprinted: A Fabric Swap
, it sounds amazing but i'm just not sure if I can find the time, although it's half term next week so no work for me, just a 1 year old and a 2 year old to keep me distracted! Oh bugger it I just headed over there and signed up!!!! The deadline is Sunday so come join me, it will be so much fun
Head over to Sarahs blog and see what everyone else is doing. Are you going to join up? How big is your to do list for the next few months?
I promise not to leave it for a month until my next post, thanks for bearing with me
Lotti